Our Mission
Play video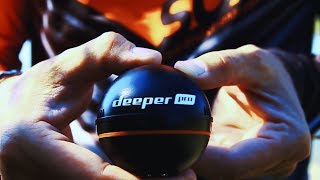 To create intelligent devices and invent new experiences to upgrade your active lifestyle.
"At Deeper, we don't do average, we do BEYOND EXPECTATIONS" – Deeper, UAB CEO Aurelijus Liubinas
Our Story
In 2012, two anglers, Aurelijus and Rolandas, were on a fishing trip in Finland. They rented a fishing boat equipped with something very new to them, a large, hard wired sonar (aka fish finder). Being their first experience using this technology, they were pleasantly surprised by the information it provided: bottom structure, water depth, fish location. This got them thinking, why can't we get this type of technology into the hands of shore anglers…something castable, something wireless, something SMART.
Deeper sonar hit the shelves in 2013
With this idea budding in their heads, they were relentless, consulting with tech experts from university professors to agency professionals, day and night. Through their diligence, they discovered tech engineer, Donatas, simply referred to as, The Wizard. With The Wizard on board, things started moving very fast. After many prototypes, lots of field tests and a successful crowd funding campaign, the first Deeper sonar hit the shelves in 2013.
Fast forward to 2018, we now offer 3 sonar models, 1 app, 4 accessories and the bathymetry management platform, Lakebook™. Deeper fish finders are available in 50 countries with over 1 million Deeper App downloads. We have a fantastic and dedicated team of over 60 specialists working in R&D, logistics, marketing, sales and support.
And this is just the beginning...
Learn more
BEST IN USA

BEST IN EUROPE

BEST IN AUSTRALIA

BEST IN CHINA

BEST IN ALASKA

BEST IN RUSSIA

BEST IN UK

BEST IN NL