Deeper Smartphone Mount for Any Fishing Rod
Deeper Smartphone Mount for Any Fishing Rod
Fitting any type of rod, the Deeper Smartphone Mount is a secure, easy-to-use silicone mount. It enables fishers to monitor the sonar data from their Deeper device while keeping both hands free for reeling in that catch. Main Features: Hands-free usage. Best option for: shore fishing, wading.
Free Shipping from $55
30-Day Return policy
Delivery time to US 4-6 business days
2-Year Limited Warranty
---
Secure payments
Visa
Mastercard
Paypal
Visaelectron
A solution for fastening your smartphone to your rod grip
Play video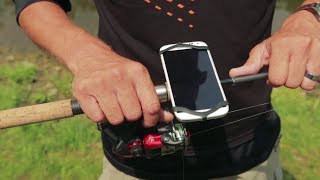 The Deeper Smartphone Mount is a durable mounting solution designed specifically for fastening your smartphone to a rod grip. This enables you to analyse your sonar data holding your rod in one hand and reeling in your Deeper device with the other. Engineered for maximum holding power, the cover does not hide your cell phone screen behind silicone retainers.
How to use
Add the Smartphone Mount to your rod grip with the Deeper logo shown on front.
Use the o-rings to fasten the Smartphone Mount to the rod grip. Catch the orange plastic hook with an o-ring, strain it over the rod grip and tighten to the other orange plastic hook. Use one or more o-rings to fasten the Smartphone Mount to the rod grip. Make sure it is firmly mounted.
When the Smartphone Mount is ready, you can the mount your phone onto it. Gently apply all four silicone retainers, one at a time, to every corner of your phone. Please ensure your device is tightly secured.
Before casting your rod, shake it several times to ensure the Smartphone Mount is correctly secured.
Notice: The manufacturer does not bear any responsibility with respect to damages or loss caused when using the Smartphone Mount. Please do not disassemble or modify the product. The manufacturer does not bear any responsibility with respect to breakdowns or damage due to disassembling or modifying the product.
Reviews
A great purchase, this thing WORKS!

This worked very well for me. It fits the rod snugly and holds my heavy Kyocera Brigadier with no problems. I used it quite a bit on my recent fishing trip.

Strong enough

It's a must for a Deeper. To be honest, I wanted to hold the phone while casting in my first casts But then, I noticed that it is very strong

Works like a charm

I was a bit apprehensive about using this product and losing my smartphone while casting out the sonar but it holds the phone in place nicely. I'm very pleased with this product.
Product details
Model: FLACC04
Size: 4.72 in / 120 mm
Weight: 0.5 oz / 14 g
Compatible with: 3.5in / 9 cm max: 5in / 13 cm diagonal screen size
Material: 84% Silicone, 16% Plastic
Free Shipping Shipping is free of charge and orders are shipped Mon-Fri, usually within one full day of the order being placed. You will get a tracking number once your product has been shipped, and delivery usually takes 3 to 5 business days. For faster shipping, choose our Premium Delivery option when you checkout.
30 Day Free of Charge Returns If you are not satisfied with your product, you can return it free of charge within 30 days of purchase. For full details of our returns policy, click here.
2 Year Limited Warranty Deeper products come with a 2 year warranty. Click here for full details of our warranty.
Smartphone mount
4 x Mounting o-ring
Choose Your Deeper Smart Sonar
Let's keep in touch!
We'll hook you up with some news, promos and more.